Bienvenue dans ma boutique en ligne.
N'hésitez pas à me contacter pour plus d'informations ou pour passer votre commande.
Pour les lyonnais, possibilité de se rencontrer pour vous remettre votre commande en main propre.
Pour les autres villes/pays, il faudra compter des frais de port en plus.
Welcome in my inline shop.
Feel free to contact me for more informations or make an order.
Prices are in euros. Add shipping costs in addition to your order.

Sérigraphies / Serigraphy
Format A3 (42 x 21cm)
Sérigraphies numérotées de 05 à 06 : 10€ (épuisés / sold out)
Sérigraphies numérotées de 07 à 15 : 7€ (reste 7 exemplaires)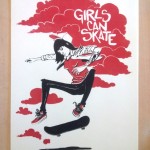 Originaux / Originals
Dessins orignaux, exemplaire unique – 17,5 x 25 cm, sur papier Bristol.
Prix libre (minimum 20€)
Original artwork, single copy, on Bristol paper.
Your price (but, minimum allowed is 20€)
Prints
Illustrations imprimées sur imprimante Traceur, papier épais 180gr.
Format A3 : 5€
Format A4 : 4€
Format A5 : 3€
Printed with high quality poster printer, on heavy paper, 180 gr.
Commandes / Commissions
Pour toutes commandes spéciales : illustrations – encadrées ou non, posters, tableaux, contactez-moi avec un descriptif et taille souhaitée.
Nous discuterons ensuite des modalités et frais.
For any commissions, contact-me with a description and estimated size of the drawing.
Then we'll talk about the terms and payments.
T-shirts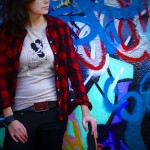 Skate 'till I die
Sérigraphiés main
Prix : 15€ l'unité.
Existe en modèle femme (couleur beige, strech) et homme (couleur gris, col V)
Toutes les infos ici.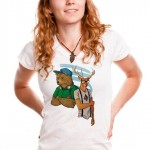 Buddies
Édition spéciale sur Mister Dress Up
Épuisé / sol out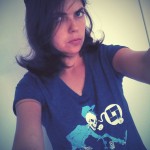 Politic Skate Fest
Édition spéciale pour le Politic Skate Fest IV.
Épuisé / sol out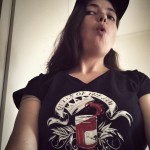 Queen of the Jam
Édition spéciale pour le Lyon Roller Derby
Épuisé / sol out